Smartphones are an indispensable part of our lives, and these devices accomplish nearly any task you throw at it. Moreover, it combines the functionality of numerous devices into one device that fits in our palm. Did you also know that you can use your smartphone as a walkie talkie? The Talker application makes it possible to do so on your iPhone and Android devices for free!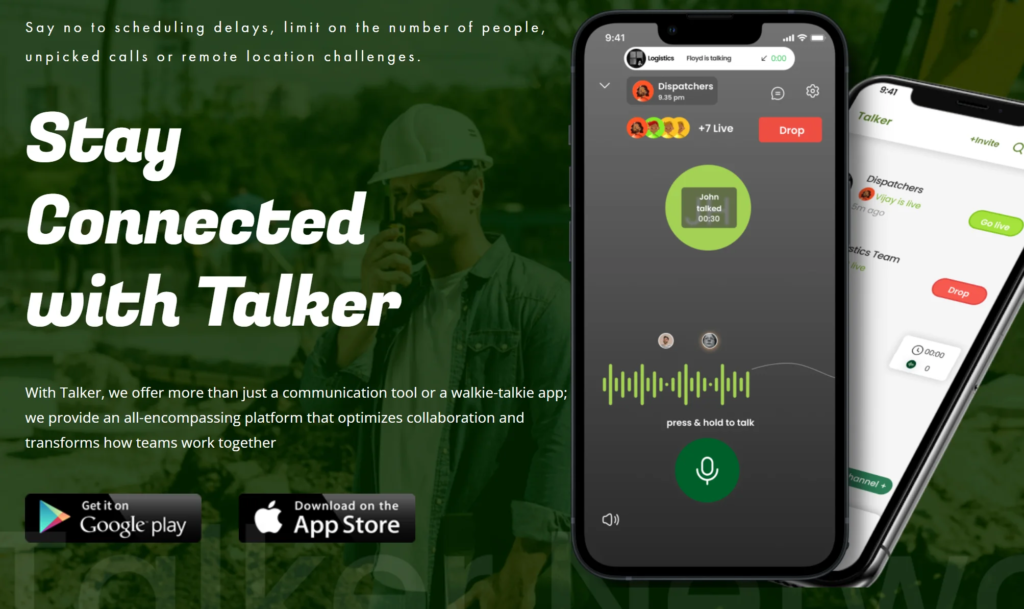 The invention of walkie talkies revolutionized the mobile mode of communication, offering a tremendous amount of efficiency. Especially, when frontline teams use it for communicating with each other. If you want to integrate the walkie talkie functionality into your smartphone – look no further than the Talker push-to-talk app. Here's everything you need to know.
Introducing Talker App for iPhone and Android
Talker is a next-generation communication and collaboration platform designed to revolutionize team communication for businesses, particularly those with frontline employees and teams on the move. Developed by a team of innovative individuals, including former hotel industry experts, Talker is committed to addressing the unique challenges faced by organizations in diverse industries.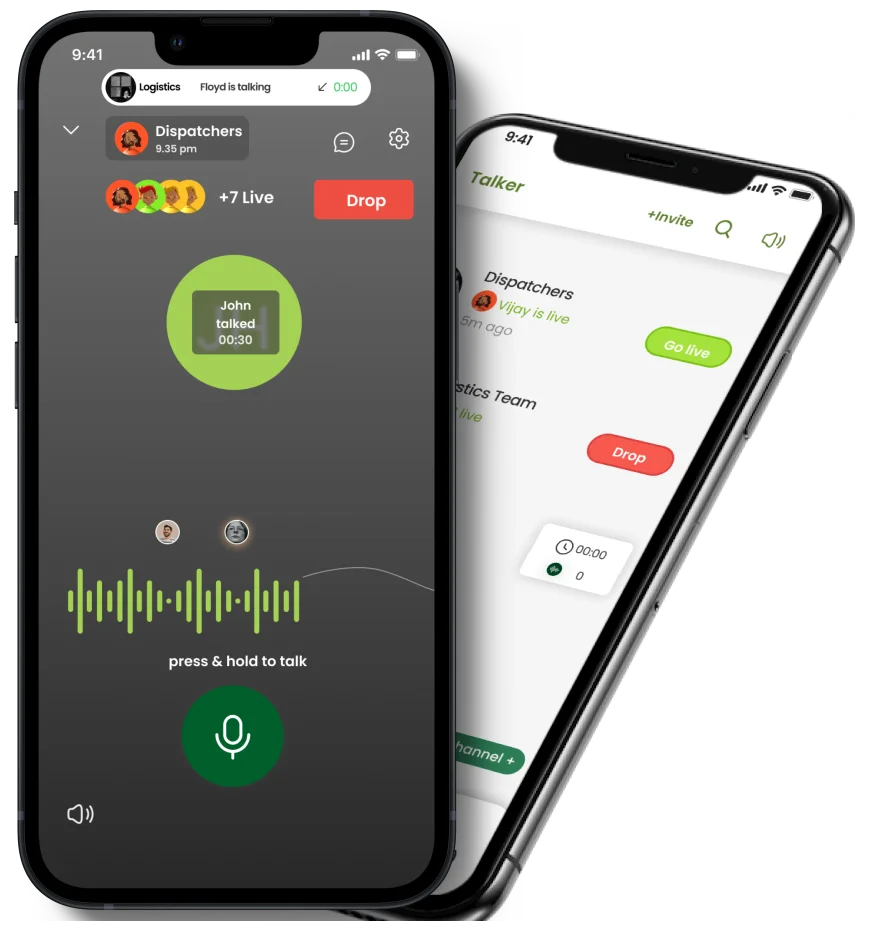 Talker is built on the foundation of the "push-to-talk" technology, also known as walkie-talkie, which has withstood the test of time as a reliable and efficient communication method. However, unlike traditional walkie-talkies, Talker takes this concept to new heights by integrating advanced features and modern technologies that enhance team coordination, efficiency, and productivity.
Key Features of Talker App
Instant Communication: With push-to-talk functionality, teams can engage in real-time conversations, reducing response times and improving overall efficiency.
Rich Messaging: Talker allows users to send text messages, attachments, audio messages, and even live push-to-talk, creating a versatile and dynamic communication experience.
Live Location Tracking: The platform offers live location tracking, ensuring supervisors can monitor the real-time locations of team members, enabling better deployment and situational awareness.
Administrative Dashboard: Talker provides an enterprise-grade administrative dashboard, granting managers the ability to add users, create channels, and manage the platform efficiently.
Data Security: As data security is paramount, Talker ensures that sensitive information is protected, providing a secure environment for team communication.
Understanding How to Use the Talker App
To use walkie talkie on your smartphone using Talker, you need to download the app, create a new workspace and invite users to start a conversation. Therefore, we'll divide the instructions to use the Talker app into multiple sections to help you easily understand the same.
1. Create a Workspace on Talker
Here's how you can create a new workspace on Talker to communicate with your team members using the push-to-talk service.
Step 1: Get started by downloading the Talker app from the below link.
Download Talker for iPhone

Download Talker for Android
Step 2: You will see a default workspace under your username. To add a new workspace, click on the profile picture icon. Click on Add a Workspace.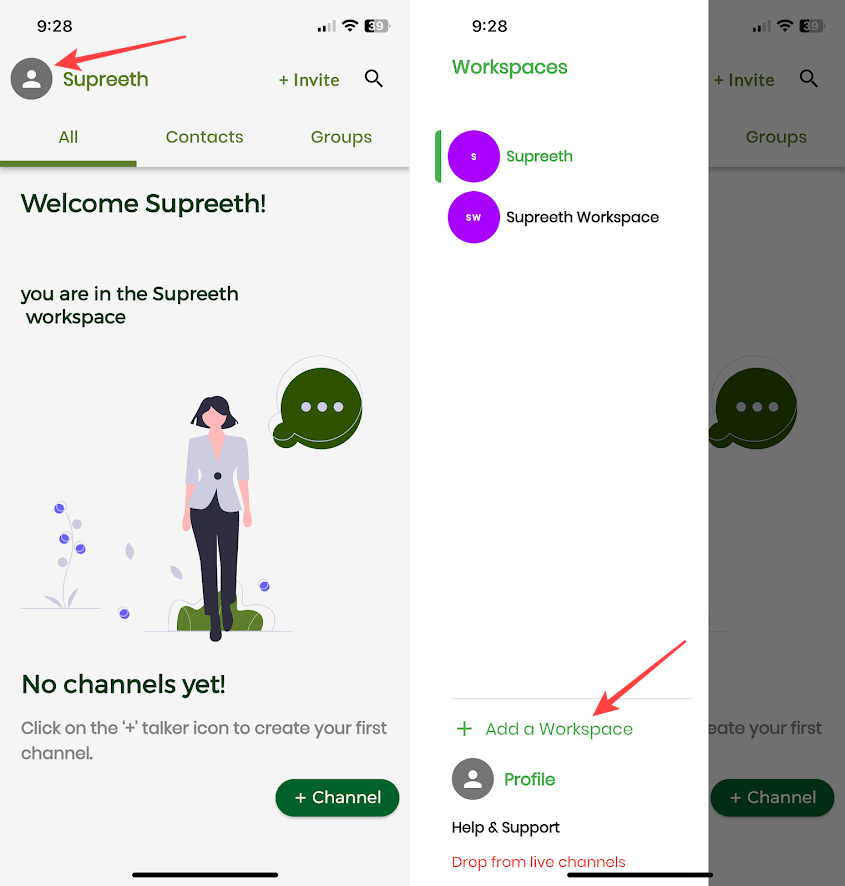 Step 3: Enter the name and the email for the workspace. Click on 'Add your Workspace'.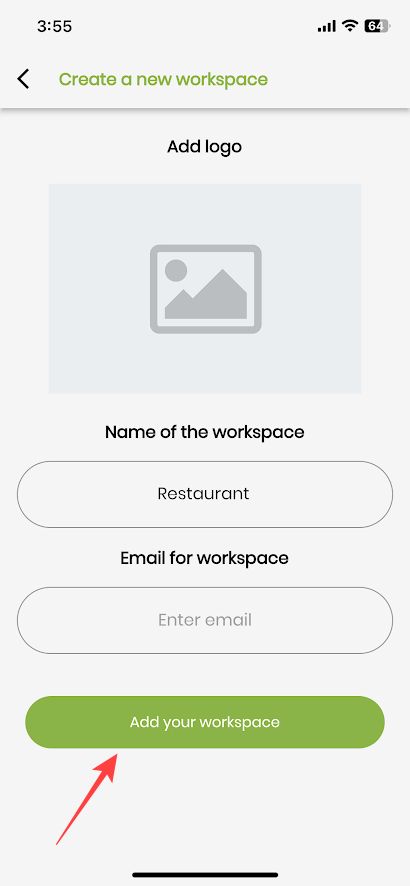 There you go – that is how to create a workspace on Talker.
2. Adding Users to a Workspace
Once you create a workspace, here's how you can add new users to your workspace.
Step 1: Open your workspace. Click on the Admin button in the top right corner.
Step 2: Click on 'Go to the Admin Dashboard'.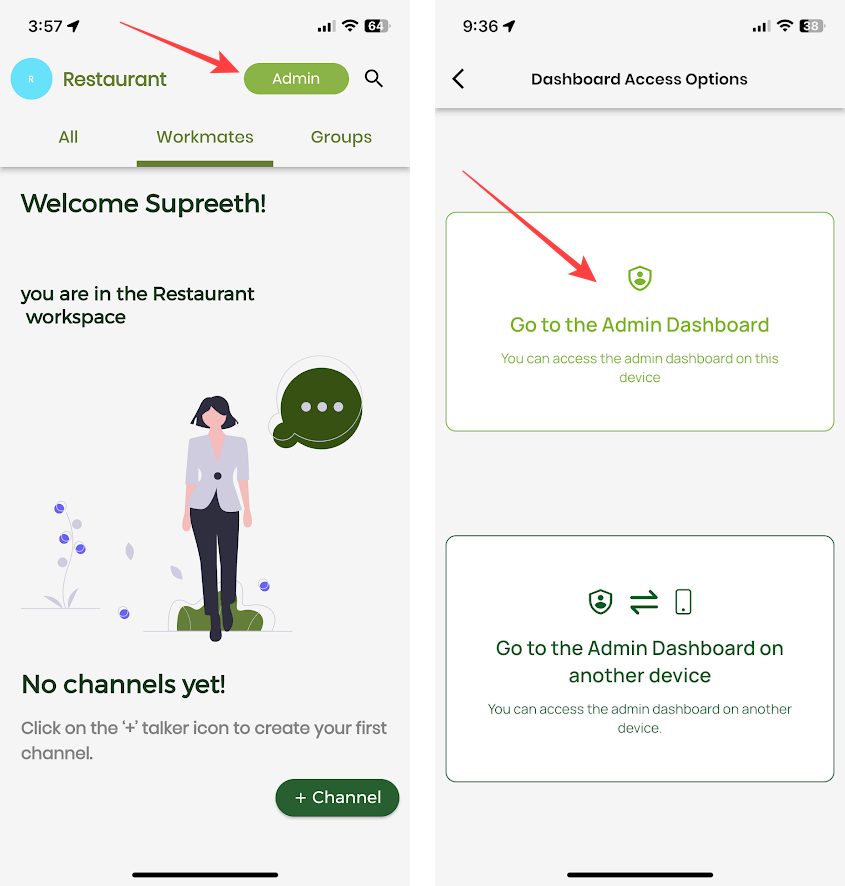 Step 4: Click on the Add User button to add a new user.
Step 5: Enter the details of the user. You can click the Role button to add them as an admin or a member. Click on Submit once you add all the details.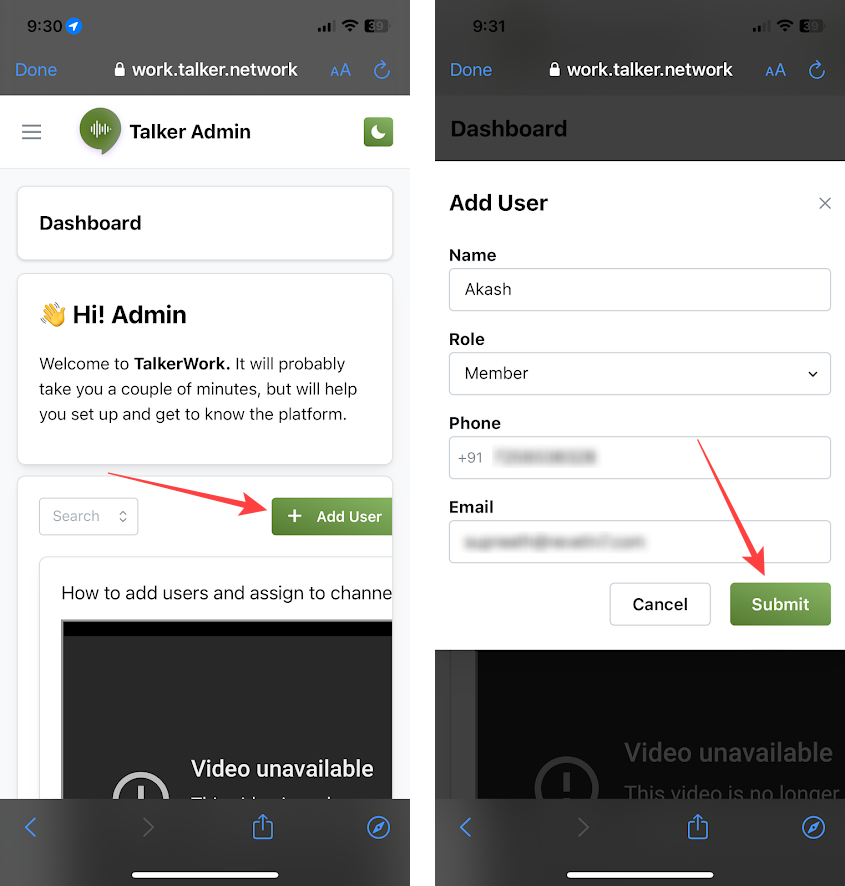 The invited user will receive an email with the link to join the workspace. The link will redirect them to the Talker app.
3. Create New Channels in Your Workspace
You can create a channel for all the different teams present in your company. You can add relevant members to these channels to communicate with them over push-to-talk. Here's how to create a channel in a workspace.
Step 1: Open your workspace. Click on the Admin button in the top right corner.
Step 2: Click on 'Go to the Admin Dashboard'.
Step 3: Click on the menu button. Click on Channels.
Step 4: Click on New Channel.
Step 5: Enter the name of the channel. Click on Submit.
Step 6: Click on Done in the top, and click on Manage to add or remove users in the channel.
Step 7: Click on 'Add user to the channel'.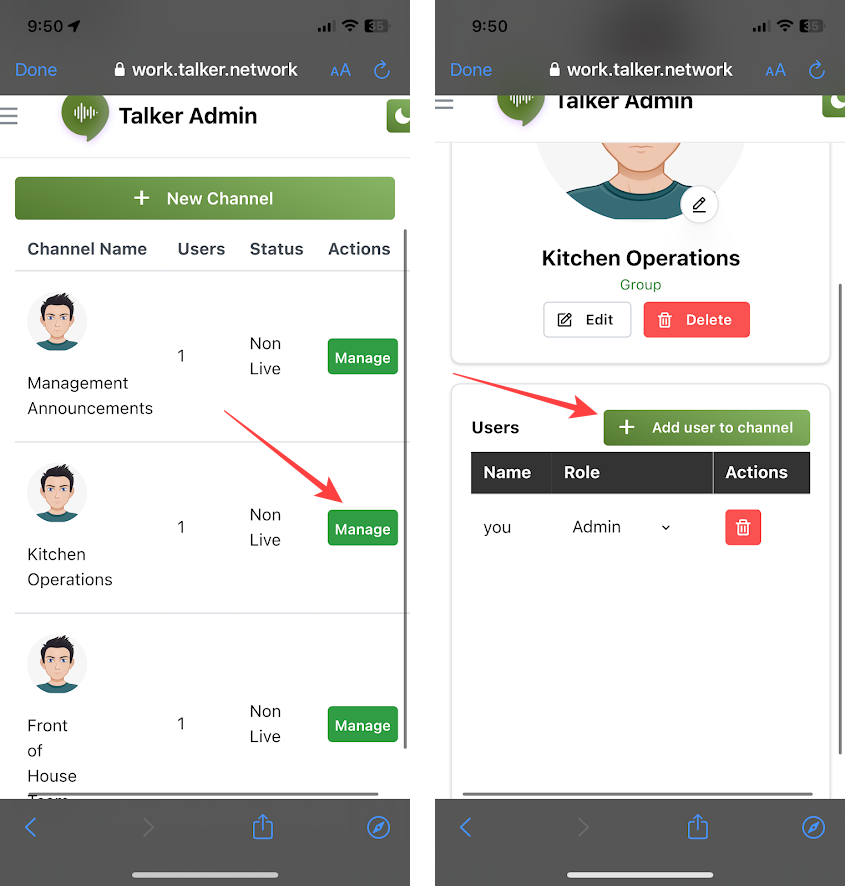 Step 8: From the dropdown menu, select the users you want to add and click on Submit. You will also find the option to delete users from a channel.
You have now created a channel and have added new users to it.
4. Start a Conversation on Talker
Once you create a channel, here's how to begin a push-to-talk among all the channel's members.
Step 1: Open the Talker app. Open your workspace and go to Groups.
Step 2: Select the channel you want to go live in.
Step 3: Tap on Go Live. All the members in the channel will recieve a notification.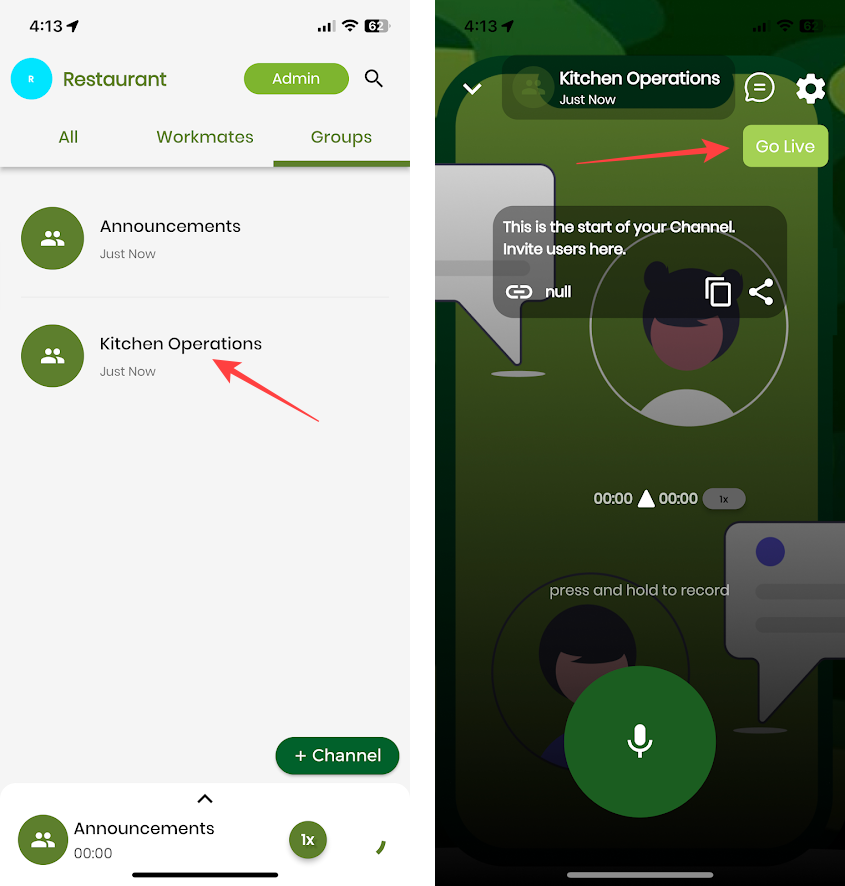 Step 6: Press and hold the microphone to start a conversation.
Step 7: Release the button to send the message.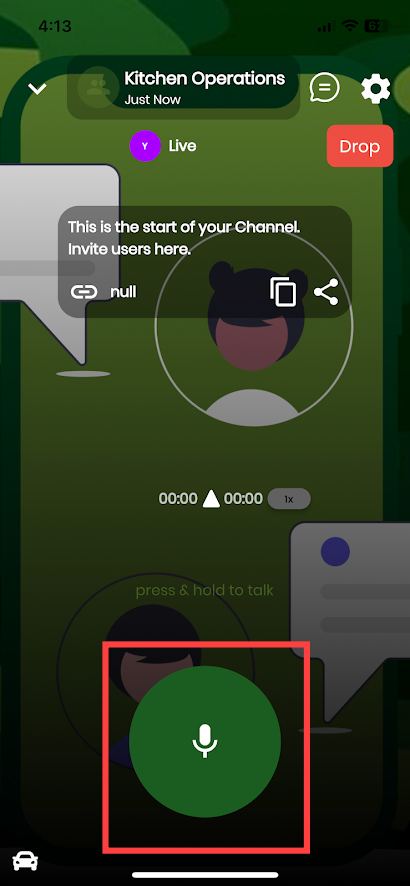 There you go – that is how you start a Live conversation in a channel. You can click on the Drop option to exit a conversation.
In addition to voice-based communication over a push-to-talk channel, you can also send text messages with picture attachments on a channel. Here's how to do it.
Step 1: Open a Group on the Talker app. Click on the messenger icon.
Step 2: Enter the message and click on the Send icon.
That is how you can send a message in a channel on Talker. Here's how you can send a picture on Talker chat.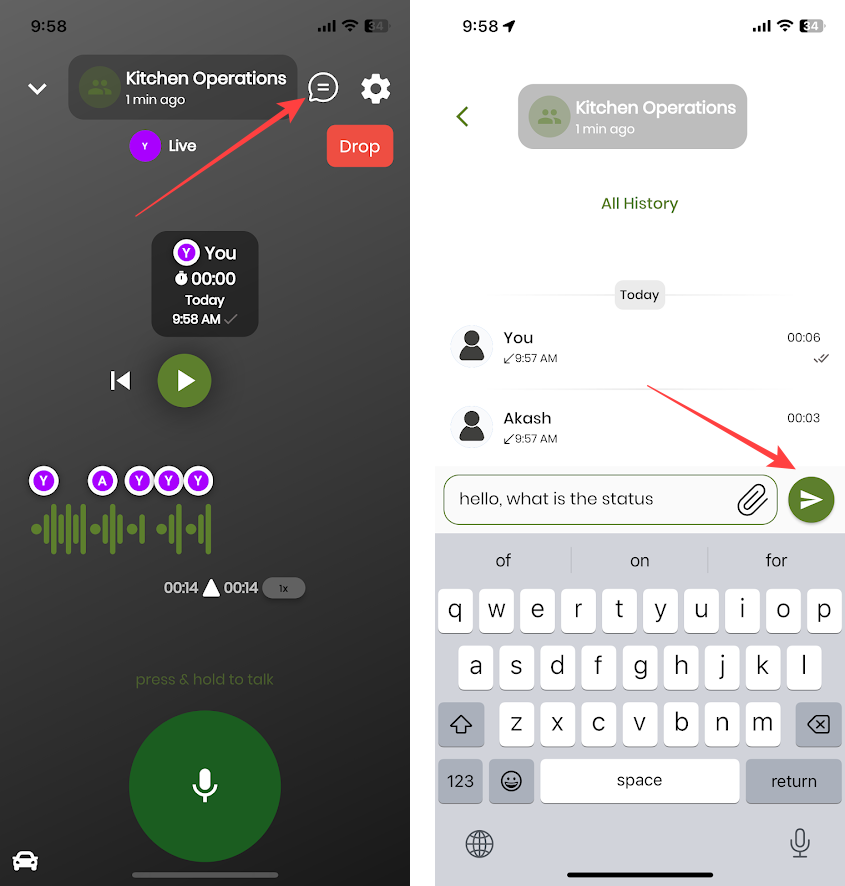 Step 1: Click on the attachment icon to add a picture.
Step 2: You may opt to capture a picture with your camera or select an image from your gallery.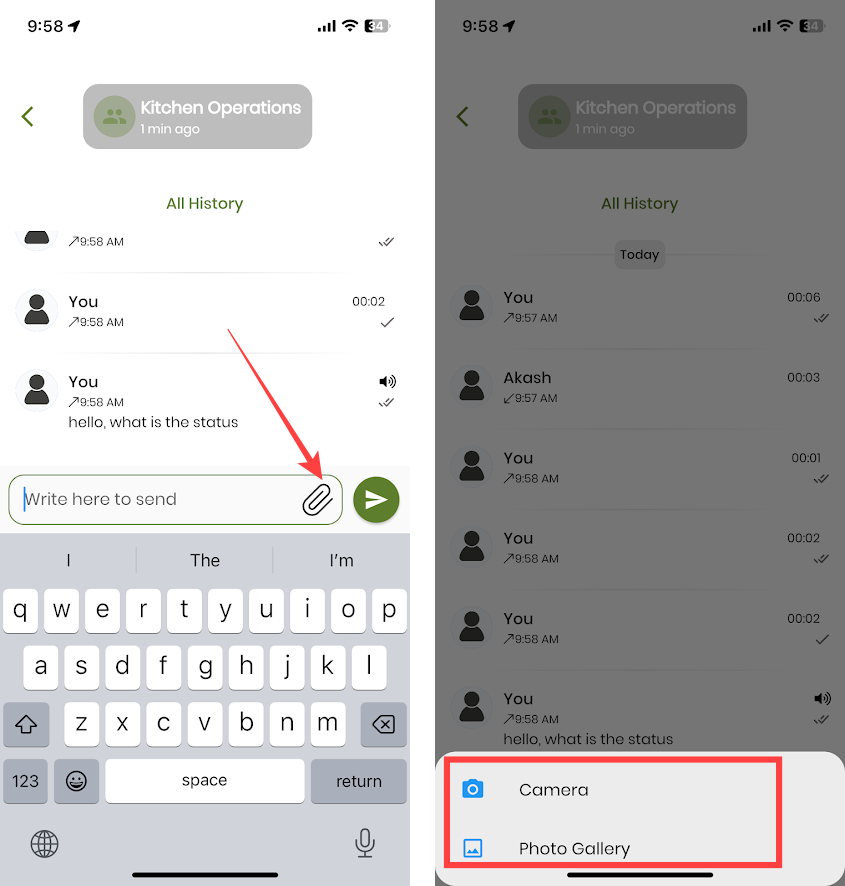 Step 3: Select the image. Modify it, crop it, or resize it according to your needs.
Step 4: You can add a message for context. Hit the send button.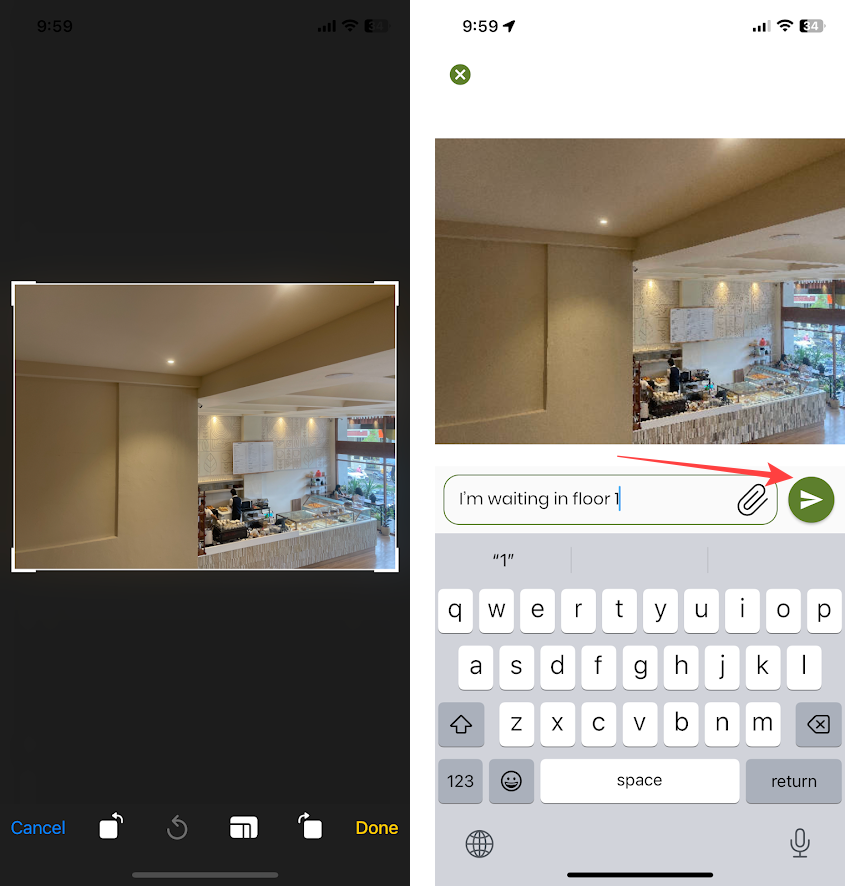 Talker: Pricing and Availability
Talker is available for both iPhone and Android as a free application. However, we also offer a paid version with additional features. Here's how the application is priced :
Business Plan – $5.95 per user per month
Enterprise Plan with AI – $11.95 per user per month
Free trial – 14 days
Download: Talker.Network for iOS & Android
FAQs on Talker for iPhone and Android
1. How many workspaces can I create on Talker?
There is no limit to the number of workspaces you can add on the Talker network. Further, there is no limit to the number of users you can add, or the number of channels you can create on Talker.
2. What is the maximum duration of a voice message on Talker?
While there is no limit to the duration of the voice message you can send in a channel, we recommend you keep it below thirty seconds for an efficient communication.
3. What is the maximum size of media that I can send on the messenger?
We recommend keep it below 2MB for photos and 5MB for videos..
4. Does Talker app work on older iPhones and Android devices?
Yes. Thanks to a minimal application package size, and less data consumption, Talker app can smoothly work on older devices with limited hardware resources.
Convert your Smartphone to a Walkie Talkie
We hope this article helps you use the Talker app to integrate walkie talkie features on your smartphone. While it is unlikely, if you have any troubles using the application – you can always contact us for help, and we shall get back to you instantly! So what are you waiting for? Download Talker and bring an unmatched efficiency for your voice-based conversations!
Also checkout 8 best walkie-talkie apps for iOS and Android to discover more options.