Apps and services on our smartphones have diminished the need to carry additional, bulky hardware devices to perform certain tasks – and walkie-talkies are the best example. There are plenty of apps, both on the App Store and Play Store, that claim to offer the features of a walkie-talkie on your smartphone. However, only a few apps are reliable and worth your time. We tested many of these apps, and here are some of the best ones you can download and use for free on your iPhone, and Android smartphone.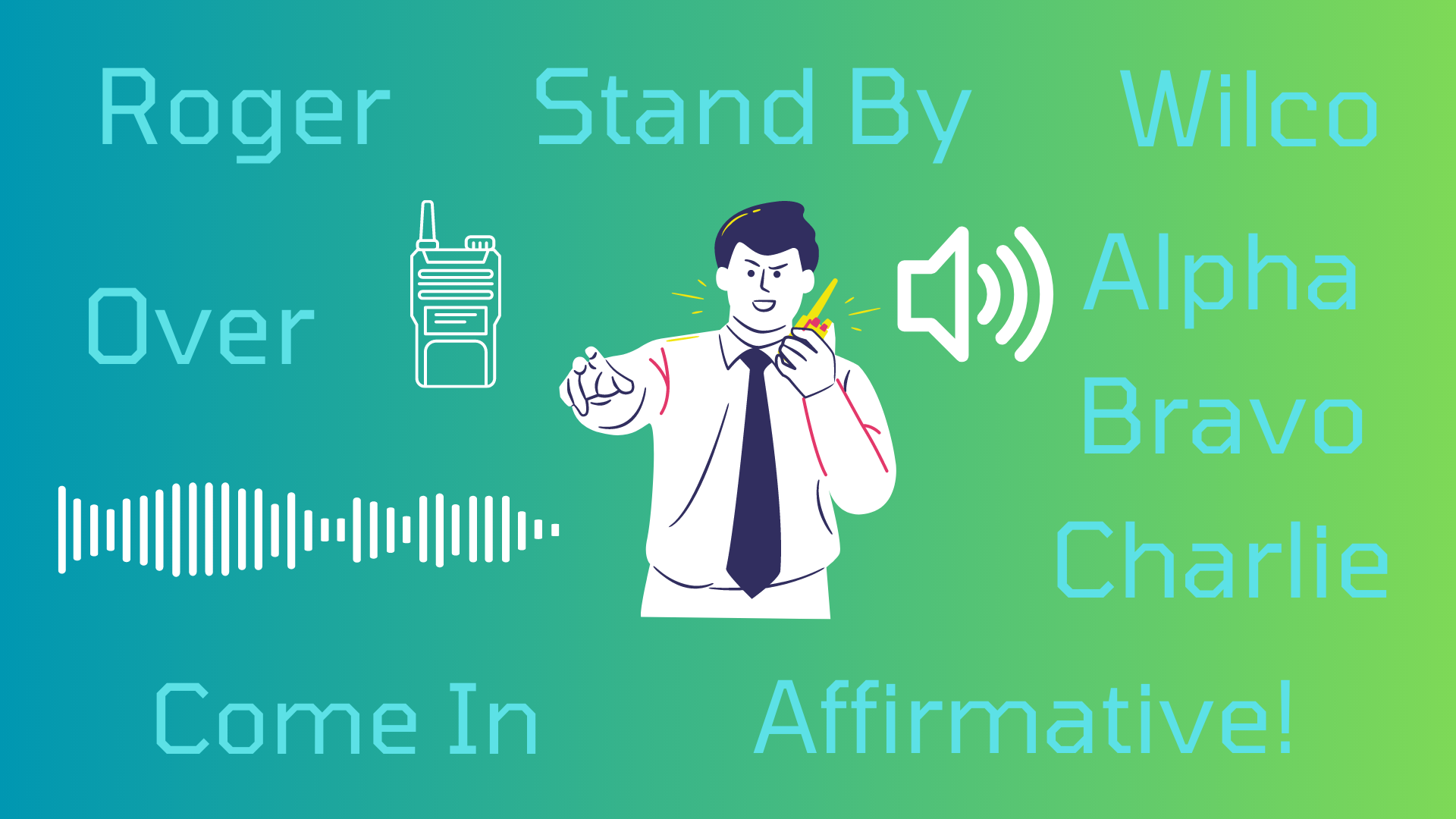 1. Talker: Best Overall Walkie Talkie App for iPhone and Android
Talker is a push-to-talk app for iPhone and Android that provides all the features of a walkie-talkie on your phone. The features of Talker are aimed to help you use efficient push-to-talk communication between team members at your workplace. You can also use Talker for your personal needs as well.
Talker ensures top-notch audio quality, and privacy with end-to-end encryption during 1-1 and 1-many push-to-talk calls. The app works across various cellular networks (4G, 5G, WiFi), and offers a user-friendly interface that makes for simple navigation. Talker provides a quick push-button connectivity to instantly start a conversation with your team members. To add context to your audio message, you can share text messages, images, and videos with ease.
Additionally, Talker also provides you with broadcast messaging capabilities. You can also ensure you never miss out on a message in a conversation, thanks to an option to replay previous messages. In case you lose internet connectivity, you can record messages offline and send them later when connected. Talker also offers a seamless MDM (Mobile Device Management) integration, live location sharing, and exhaustive analytics for comprehensive employee monitoring.
Price:
Business Plan – $5.95 per user per month
Enterprise Plan with AI – $11.95 per user per month
Download: Talker.Network for iOS & Android
2. Zello: Most Popular Walkie-Talkie App for iPhone and Android
With over a hundred million downloads, Zello is by far the most popular walkie-talkie app for iPhone and Android. Zello offers real-time voice streaming capabilities and delivers a high-quality audio transmission in conversations. Zello allows you to take part in private, group conversations or socialize in public channels across the globe with other Zello users. The platform has a refined user interface, with most user reviews highlighting the ease of deployment among team members, facilitated by a user-friendly QR code login process.
A feature that we liked on Zello is the ability to set custom volume levels for different users in a group conversation. Zello also supports seamless integration with hardware push-to-talk buttons, enhancing user experience. Furthermore, Zello offers an API for third-party app integration, and this can be useful if you are an app developer. While the app is free to use with all the essential features, Zello also offers a paid subscription called Zello Work, with features that are more suitable for large teams using the app in a professional landscape.
What we like about Zello :
Impressive audio quality over Wi-Fi and Mobile data.
Audio history and messages are recorded and can be easily accessed.
User reviews highlight excellent customer support.
Channels are very easy to set up.
You can easily share photos, and videos and even scribble doodles while you have conversations.
What Zello can do better :
Public channels on Zello are not encrypted.
The free version of Zello only has a limited set of features. For example, you can only create and join a limited number of channels, and you cannot save or record voice messages.
Some public channels on Zello may contain inappropriate content. This could be a problem for users who are using the app in a professional or educational setting.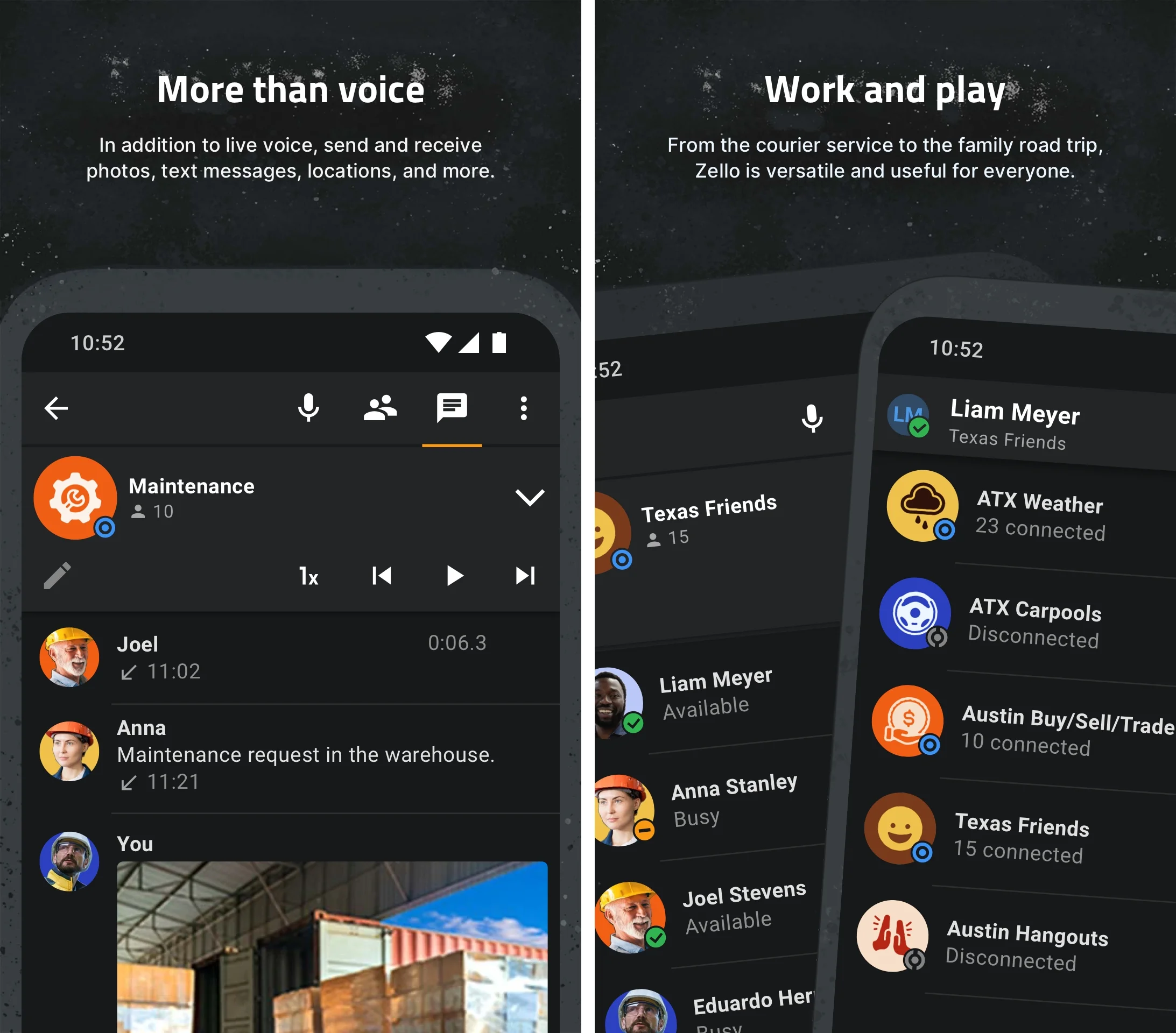 Price: Free; Pro Version: $8 per month.
Download Zello: Android and iPhone.
3. Voxer: Walkie Talkie App with the best Media Sharing features
Voxer is a feature-rich walkie-talkie app for iPhone and Android that predominantly focuses on media-sharing features. Our first impression of Voxer is that it follows the familiar design language of a traditional text messaging application, thus offering ease of usability and navigation. Voxer essentially allows you to transmit live audio like a walkie-talkie while preserving all messages for future reference. In addition to this, Voxer provides options for sharing GIFs, photos, and locations, to enhance and ensure add better context to your conversations. Voxer also ensures all data and communication are protected through end-to-end encryption. Voxer also enables you to create group chats accommodating up to 500 members, promoting efficient collaboration across teams and groups of all sizes.
Furthermore, Voxer integrates Dropbox for file sharing and exchanging important documents and media with ease. Voxer can also be accessed on your web browser on both PC and Mac, ensuring accessibility across different devices and platforms.
What we like about Voxer :
Excellent multimedia sharing support.
Voxer offers a paid subscription feature that allows you to transcribe your voice messages to text.
Voxer uses end-to-end encryption for one-to-one and group conversations.
Voxer also provides location-sharing features.
What we do not like about Voxer :
The free version of Voxer only offers 100 MB of storage space for voice messages.
Further, messages are stored only for 30 days in the free version.
Some users have reported that voice messages sometimes fail to send or receive, or that the app crashes unexpectedly.
No option to send broadcast messages.
Price: Free; Pro Version: $3.99 per month
Download Voxer: Android and iPhone.
4. Apple Watch Walkie Talkie : Walkie Talkie on Your Wrist
When Apple decided to add a downsized version of a smartphone on your wrist – it opened up a lot of capabilities. One such feature is the walkie-talkie capability that allows you to have instant, two-way voice conversations with your friends within a range of 100 meters. To use the walkie-talkie feature, you need to have watchOS 5 or later installed on your Apple Watch. Once you've added your friends to the walkie-talkie app, you can start a conversation by tapping their names in the app. Since this feature uses the low energy Bluetooth, you can talk to your friends even if they're not nearby.
All conversations in the walkie-talkie app on the Apple Watch are end-to-end encrypted, so you can be sure that your conversations are private. When you receive a message in Walkie-Talkie, you'll receive a haptic notification on your Apple Watch. You can also create group walkie-talkies with up to ten friends. Additionally, you can now use Walkie-Talkie with your AirPods as well.
What we like about Walkie Talkie on Apple Watch
A well-designed user interface that facilitates two-way communication.
You can use the feature with your AirPods – and you do not have to bring your Apple Watch close to your mouth while you send a voice message.
Support for group conversations with up to ten people.
What we do not like about Walkie Talkie on the Apple Watch
Does not support cross-platform communication – all users must have an Apple Watch with watchOS 5 or above to use this feature.
Using the walkie-talkie app for an extended period may have an impact on the battery life.
Requirements: Apple Watch with WatchOS 5 and above.
5. Samsung Galaxy Watch Walkie-Talkie: Push to Talk on Your Watch
If you are an Android user, the Samsung Galaxy Watch has you covered with its walkie-talkie functionality. It allows you to have quick, two-way voice conversations with your friends who also own a Galaxy Watch. This feature is available across all Google WearOS-based Galaxy Watches. Thanks to Bluetooth Low Energy, you can communicate with them with a range of up to 100 meters (330 feet).
You need to include your friends by sending them an invite in the Walkie-Talkie app to start a conversation. You can have one on one conversations, or create a group with your friends. . Conversations on the Galaxy Watch walkie-talkie are secure since only users with invites, and a PIN enter them. Additionally, all conversations are also end-to-end encrypted.
What we like about the Walkie-Talkie on Galaxy Watch
We love how quickly you can start a push-to-talk communication with your friends who also use the Galaxy Watch.
Easy to use, and an intuitive user interface.
The secure PIN to join conversations prevents unauthorized access.
What we do not like about Walkie Talkie on Galaxy Watch
Restricted to Galaxy Watch users only, thus limiting cross-platform communication.
Continuous use of the walkie-talkie feature can drain the battery quickly.
Requirements: Galaxy Watch 4 and above.
6. WiFi Walkie Talkie Slide2Talk: Walkie Talkie on Your Smartphone Without Internet
Slide2Talk may not be as feature-rich as Zello, or Voxer but it offers a crucial feature that no other app does in this list – the ability to use the app as a walkie-talkie without the internet. The app leverages local Wi-Fi networks to facilitate two-way conversations among fellow app users. The app is designed to be used as a WiFi intercom at your home, and office.
This flexibility enables you to communicate within closed groups, and you have an option to either send messages to all users in a group or individually. There's also a 'Quick Reply' feature that allows for instant responses to incoming messages. Slide2Talk also has this unique button-sliding mechanism, therefore, accidental audio messages are effectively prevented. The app also supports end-to-end encryption, ensuring the privacy of all your conversations.
What we like about the app :
Walkie-talkie functionality works on local networks – without the internet.
Ability to integrate a hardware button.
The app has an easy-to-use, and intuitive user interface.
The quick reply feature allows you to reply instantly in conversations.
Areas where the app can improve :
The sign-up process could be better.
The app may drain the battery after a long period of usage – however, the developers seem to regularly fix such issues.
Price: Free
Download Slide2Talk: Android
7. Walkie Talkie All Talk: Walkie Talkie App that Lets You Socialize
Walkie Talkie All Talk focuses on integrating a social media aspect into the walkie-talkie functionality. The Walkie Talkie All Talk app has two modes – the Public and the Private mode. In the public mode, you can connect to all users of the app around the world who are connected to the same frequency, whereas the private mode lets you talk to your friends and family who use the app. The app has a fun-to-use interface, which is unique in comparison to all the other apps in the list. What we like about the app is that it takes a Reddit-esque approach, and you get to identify yourself with a pseudo-anonymous username and a customizable avatar. Additionally, the app can also be used across various languages.
What we like about the app :
Unique, and colorful user interface.
Support for pseudo-anonymous usernames.
Public mode lets you talk to users across the world.
What we do not like about the app:
A lot of ads that affect the user experience.
No dark mode theme.
Messages may not be sent if the user at the other end has an outdated version of the app.
Price: Free; Paid Version: Starts at $2.99
Download Walkie Talkie All Talk: Android, iPhone
8. Two–Way Minimal Walkie-Talkie App: A Lightweight, and a Minimal Walkie-Talkie App
If you are using an old Android device or an iPhone, Two Way is the app for you. The app focuses on consuming as less resources as possible. Two-Way stands out as an efficient choice because it consumes less memory and battery thanks to a lightweight app size. Additionally, you can use Two-Way without setting up an account, ensuring that no personal information will be collected by the app. Furthermore, the app performs well even with low-speed internet connections.
What we like about the app :
Perfect choice for older devices.
Lightweight application package size.
Consumes the least amount of battery among all the other apps in the list.
What we do not like about the app :
Outdated user interface.
Features on the app are pretty barebones.
We aren't sure about the level of privacy, or encryption the app offers for conversations.
Download Two-Way: iPhone and Android
The above apps are our recommendations for the best walkie-talkie apps for iPhone and Android. If you have any further questions, you can take a look at the FAQ section below.
FAQs on Walkie-Talkie Apps
1. Can I use an Apple Watch walkie-talkie to talk with a Galaxy Watch walkie-talkie user?
No. You cannot use the Apple Watch walkie-talkie and Galaxy Watch walkie-talkie together, or vice versa.
2. What are the benefits of using walkie-talkie apps on my smartphone?
Communication over a push-to-talk or a walkie-talkie platform ensures efficient, quick, and instant two-way communication.
3. What are some of the best tips for efficient communication over a walkie-talkie?
You can check out our article that explains the language to be used in radio communication.
4. Is it mandatory to use radio lingo while using a walkie-talkie?
Not necessarily, but the standard radio language helps for unified, confusion-free, and unambiguous communication.
Your Smartphone Is Now a Walkie Talkie
We hope this article helps you make the best choice for using the walkie-talkie functionality on your smartphone. However, we hope that Apple and other Android device manufacturers incorporate an inbuilt walkie-talkie function into the software. Until then, you can download and use Talker on your smartphone for efficient push-to-talk communication.