Choose the Perfect Talker Package for Your Team
Try free for up to 3 users each workspace with any of our plans.
Whether you're a small team or a large enterprise, Talker offers feature-rich plans to suit your communication needs. Get started free with Starter Plan upto 3 seats
Business Plan
$5.95mo
Start Strong with Talker: The Ultimate Team Communication Package
Key Features
Free for the first 3 users:
Get started with Talker at no cost for your initial three users, making it easy to try out the app and experience its benefits.
Unlimited Live Channels:
Create and manage as many live channels as you need to streamline communication within your team, projects, or departments.
Text messages and attachments:
Utilize both text messages and attachment sharing to keep everyone informed and collaborate efficiently.
Delete already-sent messages:
Have the flexibility to delete any sent messages, ensuring clear and concise communication.
Live locations:
Track team members' locations in real-time for enhanced coordination and safety during field operations.
3 months storage:
Enjoy the convenience of storing your messages for up to 3 months, making it easier to refer back to past communications.
Admin Dashboard: Access the Talker Admin Dashboard to manage users and channels effortlessly, ensuring smooth team administration.
Check-in/checkout history up to 18 months:
Keep track of your employees' attendance and working hours with the ability to store data for up to 6 months.
Enterprise Plan
$11.95mo
Enterprise Excellence Unleashed: Elevate Team Communication and Collaboration
Key Features
Minimum 3 users:
Ideal for larger teams and organizations, the Enterprise Package requires a minimum of three users to unlock its advanced features.
Everything in Starter +:
Enjoy all the benefits of the Starter Package, including infinite live channels, text messages and attachments, delete already-sent messages, live locations, audio messages history, and access to the admin dashboard.
AI Voice to text:
Transcribe live audio messages to text, allowing for easy reference and record-keeping of important conversations.
Daily Communication AI Summaries:
Receive AI-generated summaries of daily team communication, providing a quick overview of key discussions and updates.
Location Tracking up to one month:
Monitor team members' locations for up to one month, ensuring efficient coordination and security during field operations.
12 months storage of messages history:
Access and store your message history for an entire year, making it convenient to review past communications and track progress.
Project Management Channel-wise:
Enhance project coordination by allowing users to add task lists within each channel. Stay organized and manage tasks seamlessly within relevant conversations.
Custom Integrations
Talk to us
Our Custom Plan is designed to cater to the unique needs of large enterprises with over 100 users. We understand that every organization is different, and that's why we offer a personalized approach to meet your specific communication requirements.
Key Features:
Customized Integrations:
Seamlessly integrate Talker with your existing tools and systems, ensuring a smooth workflow and maximizing productivity.
Dedicated Onboarding:
Our expert team will work closely with you to ensure a seamless transition to Talker, providing comprehensive training and support to your team.
Scalable Solutions:
As your organization grows, our Custom Plan can easily adapt to accommodate additional users and channels.
Premium Support:
Enjoy priority access to our customer support team, available round-the-clock to address any queries or issues.
Reach out to us today to discuss your organization's needs in detail and unlock the full potential of Talker's advanced communication capabilities tailored to your enterprise. Let us help you achieve excellence in team collaboration and communication.
Stay ahead with Talker: Instant communication, seamless collaboration, and advanced features for elevated team productivity.
Our team is here to assist you at every step, ensuring a smooth pricing journey tailored to your specific needs.
Talker works seamlessly on all iOS and Android devices, keeping your team connected, regardless of their preferred platform.
AI-Driven Efficiency: Experience the power of Talker's AI capabilities, from voice-to-text transcription to intelligent communication summaries, enhancing your team's productivity like never before.
Talker is built to serve teams of all sizes and industries, revolutionizing how they collaborate and stay connected.
Universality: Talker is designed to cater to teams of all sizes and industries, offering a versatile communication solution.
Cross-platform Compatibility: With support for iOS and Android devices, Talker ensures seamless communication across all major mobile platforms.
Scalability: Whether you have a small startup team or a large enterprise, Talker's flexible features and pricing plans adapt to your needs.
Intuitive Interface: Talker's user-friendly design makes it easy for anyone to use, regardless of their technical background or experience with communication apps.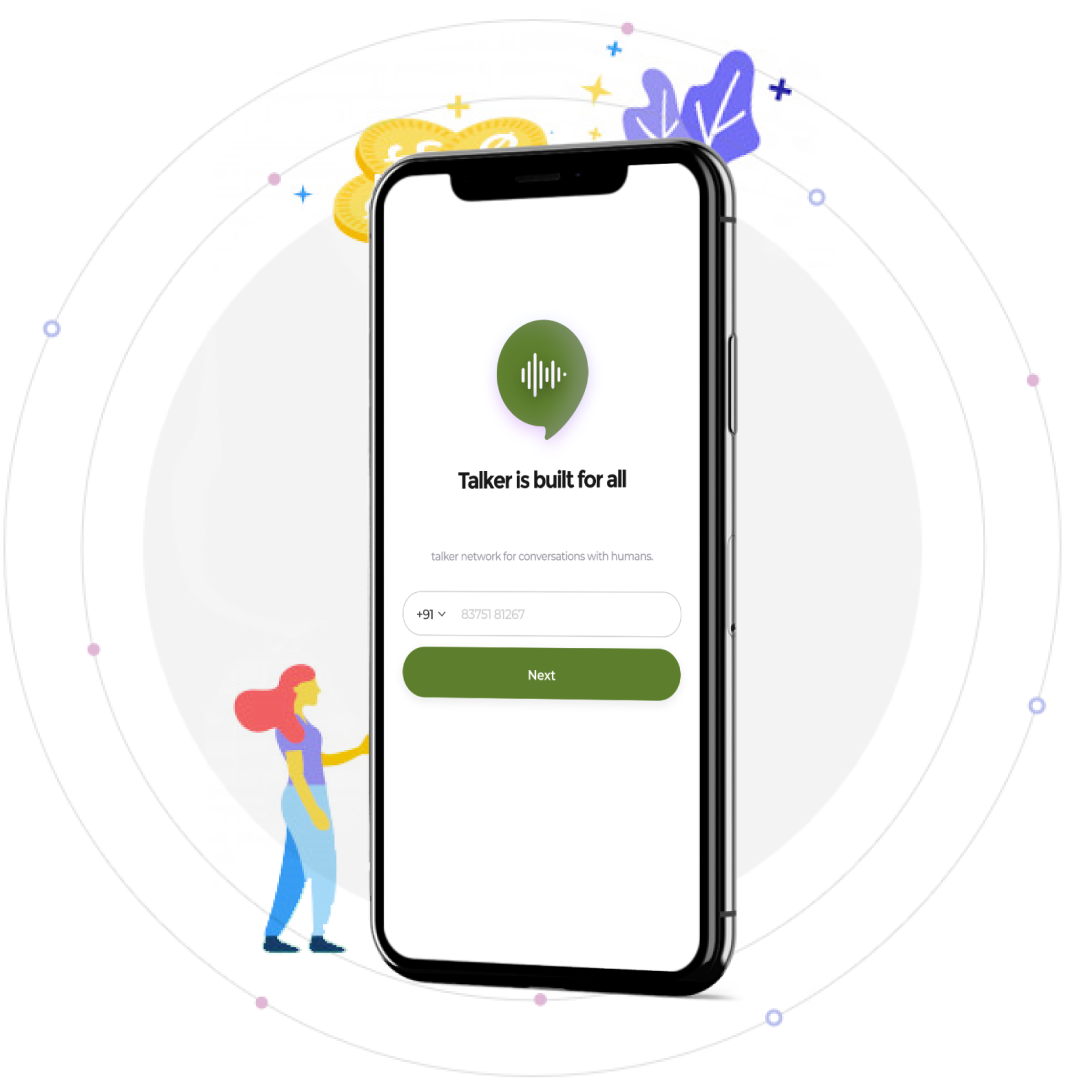 From initial setup to ongoing usage, we are here to provide clear answers and assistance, ensuring a smooth and satisfying experience with our communication platform. Explore the FAQ below to find solutions to common queries, empowering you to make the most of Talker's powerful features and seamless collaboration tools at every step.
Is there a free trial available for Talker's plans

Yes, we offer a free trial for Starter plans for upto 3 users. Experience the power of Talker's communication features firsthand before making a commitment.

Can I switch between plans or cancel anytime?

Absolutely! You have the flexibility to upgrade, downgrade, or cancel your plan at any time, ensuring you have the freedom to adjust according to your team's needs.

How does the Custom Plan work for large enterprises?

The Custom Plan is designed to cater to organizations with over 100 users. Reach out to our team to discuss your specific requirements, integrations, and onboarding process for a tailored solution.

What level of support can I expect during my pricing journey with Talker?

Our dedicated customer support team is available to assist you at every step, from plan selection to onboarding and beyond. Feel confident knowing we're here to address any questions or concerns you may have.