Walkie-Talkies have proven to be one the best inventions in handheld technology, making communication an efficient process. If you wish to use one of these, but find it difficult to keep another device along with your smartphone, why not use the walkie-talkie functionality on your smartphone itself? Here are five reliable push-to-talk apps for iPhone and Android!
Furthermore, walkie-talkies are often bulkier devices. That is another reason why you should consider these apps for your smartphone to get the job done. There are plenty of apps that claim to offer good push-to-talk functionality. Therefore, making a choice can be difficult. However, we tried a few apps and we've shortlisted five of the best apps to make it simple for you. 
Also Read: Why Turn Your Smartphone into a Walkie-Talkie?
Before we get to the list, let us understand how you can leverage the push-to-talk functionality for efficient communication. 
Who Can Benefit from Push-to-Talk 
If you have a mobile workforce that frequently migrates and operates from remote locations, you must concur that telephone calls or formal emails are not the best way to keep communications flowing smoothly. No one is expected to carry bulky radio-based walkie-talkies for communication in a mobile-first world. Businesses now have powerful walkie-talkie apps at their disposal which they can integrate into their employees' smartphones.
There are a few industrial sectors that involve desk-less workers and do not accept regular communication methods.
Manufacturing and Production Plants Workers.
Businesses with remote employees.
Fleet drivers.
Construction workers.
Police & security forces.
Ambulance drivers,
Firefighters.
Facility managers in assembly lines.
Travelers in unfamiliar places, to guide and communicate with each other.
Outdoor enthusiasts who need to stay connected while hiking or camping,
Anyone who wants a quick and easy way to communicate with.
Now that we have a good understanding of the need for a push-to-talk service, here are five reliable push-to-talk apps for iPhone and Android.
Top 5 PTT Apps for iPhone and Android
Here are five free-to-use push-to-talk applications that you can download and use right away. Let's begin.
1. Talker: Best Push-to-Talk App for iPhone and Android
Talker stands out as the premier push-to-talk app available for both Android and iPhone users. It offers a user-friendly experience, transforming smartphones into walkie-talkies with remarkable ease. The application ensures top-notch security through end-to-end encrypted communication, assuring users of the utmost privacy during 1-1 and 1-many push-to-talk calls across various cellular networks, including 4G, 5G, and WiFi.
Among the many advantages of Talker are its simple user interface, enabling effortless navigation and usage. It employs encryption to guarantee secure and protected information exchange. Additionally, Talker impresses with super-fast push-button connectivity, ensuring instant communication at the touch of a button. The app facilitates multi-media messaging, allowing users to share various types of content with ease, along with broadcast messaging capabilities. Location sharing enhances the overall communication experience, while the option to replay messages and record messages offline offers added convenience.
For businesses, Talker provides seamless MDM (Mobile Device Management) integration, ensuring faster and more efficient deployment for organizations. Exhaustive analytics capabilities enable comprehensive employee monitoring, empowering businesses with valuable insights. The availability of both public and private channels caters to group-specific communication needs, further enhancing the app's versatility.
In summary, Talker presents an exceptional push-to-talk solution, delivering convenience, security, and advanced features for enhanced communication experiences on Android and iPhone devices.
Price:
Business Plan – $5.95 per user per month
Enterprise Plan with AI – $11.95 per user per month
Free trial – 14 days
Download: Talker.Network for iOS & Android
2. Zello: A Popular Push to Talk App for iPhone and Android
Zello is a popular push-to-talk app for Android and iPhone, which has a slew of features to aid communication at the workplace. It offers real-time voice streaming, with a good-quality audio transmission. An advantage of using Zello is that you can map a hardware push-to-talk button. Zello also has a polished user interface and a user experience that facilitates an efficient usage of the push-to-talk service. Multiple user reviews suggest the ease of deploying and onboarding new users to the app. Zello even offers an API to integrate into third-party apps. Further, you can also create QR codes for an easy login process for your team. You can also use Zello to engage in public conversations on multiple social channels. 
Zello offers a free version, and for more advanced features, users can opt for the premium subscription, Zello Work, which includes unlimited message storage, walkie-talkie mode, and message recall capabilities.
Price: Free; Pro Version: $8 per month.
Download Zello: Android and iPhone.
3. Voxer: A Feature Rich Push-to-Talk App
If you don't prefer a minimal push-to-talk solution and are looking for a feature-rich option, then Voxer is the way to go. You can use Voxer to transmit live audio as a walkie-talkie, but all messages are saved so that you can listen to them and respond later. Data on Voxer is secure by end-to-end encryption, and you can put your privacy concerns aside. Further, Voxer also has options to share GIFs, photos, and locations. 
While Voxer is available for free, there is a premium subscription option called Voxer Pro. Voxer Pro offers additional features, including unlimited message storage, walkie-talkie mode, and message recall capabilities.
Price: Free; Pro Version: $3.99 per month
Download Voxer: Android and iPhone.
4. HeyTell: Lightweight Push-to-Talk App
HeyTell might look like an archaic app given how the user interface looks, but it does a good job of providing you with a push-to-talk service. HeyTell is fully free to use and does not have any limit to sending messages. We observed that the app uses less amount of internet data, therefore you can use it without any issues even on a low-speed network. You can also create a group of up to 25 people. The app developers do claim that all forms of data and audio you transmit using HeyTell are encrypted in transit.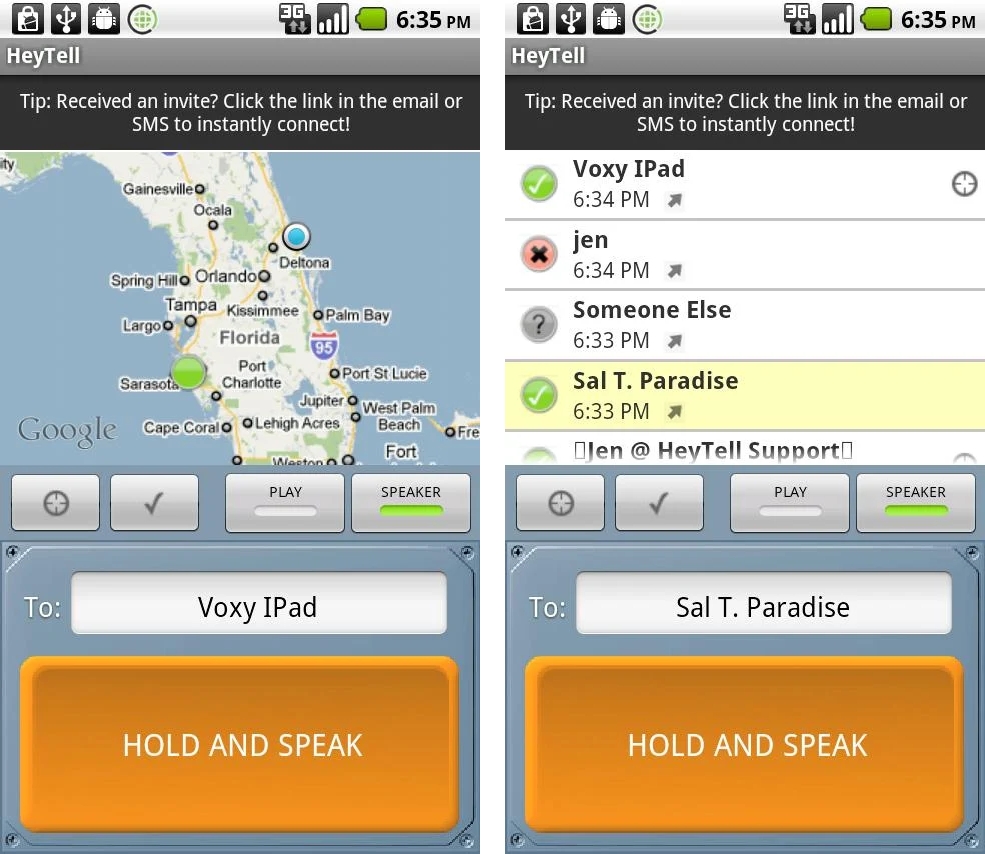 Price: Free; In-App Purchases: Start at $0.99
Download HeyTell: Android and iPhone.
5. Two Way: A Minimal Walkie Talkie App
Two-Way is another minimal push-to-talk application for iPhone and Android. It consumes minimum resources even when it is running in the background. An advantage of Two-Way is that it does not require you to set up an account if you want to use the app. Therefore, no personal information will be collected by the app. If you have concerns regarding your privacy and not using in an enterprise environment while using push-to-talk apps, then Two-Way is the one for you. 
Price: Free
Download Two-Way: iPhone and Android
If you have any further questions on push-to-talk apps for iPhone and Android. you can take a look at the FAQ section below.
Frequently Asked Questions on Push-to-Talk Apps
1. Can I use any of these push-to-talk apps offline?
No. You require an internet connection to use any push-to-talk app on your iPhone and Android devices.
2. Are all the above push-to-talk apps free to use?
Yes. All of the above push-to-talk apps are free to use on your smartphone.
3. How are push-to-talk apps better than apps like Slack, or Microsoft Teams at work?
Push-to-talk apps offer live and seamless voice-based communication. It helps you overcome all the challenges and difficulties in using the standard text message-focused apps, where a majority of your employees are operating away from their desks.
Your Smartphone is a Walkie Talkie
We hope this article helped you discover the best push-to-talk apps for iPhone and Android. Using a walkie-talkie-like functionality on your smartphone will certainly improve communication efficiency at your workplace. Therefore, go through all the apps and features, and pick the best one that suits your needs!